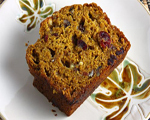 Prep: 15 min
Cook Time: 1 hr 10 min
Total: 1 hr 25 min
Serving: Makes 1 loaf
Impress your friends and family with this sweet bread at your next holiday gathering.
Ingredients
2-1/4 cups flour
3/4 cup brown sugar
3/4 cup sugar
2 tablespoons cinnamon
1 tablespoon ginger
2 teaspoons nutmeg
2-1/4 teaspoons baking powder
1/4 teaspoon salt
1-1/2 cups canned pumpkin
4 eggs
1/2 cup butter, melted
1/3 cup orange marmalade
3 tablespoons orange juice
Directions
Combine flour, sugar, brown sugar, cinnamon, ginger, nutmeg, baking powder and salt; set aside.
Beat pumpkin, eggs, butter, marmalade and orange juice; mix well.
Blend flour combination into pumpkin mixture.
Pour batter into a greased loaf pan.
Bake at 350 degrees for 1 hour and 10 minutes.
Mix 2 tablespoons orange marmalade and 1 tablespoon orange juice in a small bowl; spread over cooled bread.