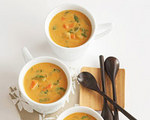 Prep: 15 min
Cook Time: 10 min
Total: 25 min
Serving: 12 Servings
A tasty twist on a classic pumpkin soup recipe!
Ingredients
1 (15 ounce) can pumpkin
1 (14-ounce can) unsweetened light coconut milk
1 medium green sweet pepper, seeded and chopped
1 medium onion, chopped
1 tablespoon vegetable oil
1 (14-ounce can) low-sodium chicken broth
2 medium carrots, chopped
2 tablespoons packed brown sugar
1 medium fresh jalapeno chile pepper, seeded and finely chopped
3/4 teaspoon salt
1/2 teaspoon ground ginger
1/4 teaspoon cinnamon
2 tablespoons snipped fresh parsley
Directions
In a large saucepan, cook carrots, sweet pepper, and onion in hot oil over medium heat about 5 minutes or until vegetables are almost tender.
In a large bowl, combine pumpkin, coconut milk, and chicken broth. Stir in brown sugar, jalapeno pepper, salt, cinnamon, and ginger. Stir pumpkin mixture into cooked carrot mixture.
Bring to a boil then reduce heat and simmer uncovered for about 10 minutes or until heated through, stirring frequently. Before serving, stir in parsley.