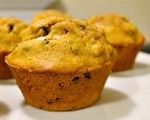 Prep: 5 min
Cook Time: 20 min
Total: 25 min
Serving: 12 People
Pumpkin is one of those amazing flavors that is sadly forgotten about once fall is over. Enjoy the spicy, buttery flavor of pumpkin year-round with this delicious muffin recipe. In addition to pumpkin, this muffin is also loaded with milk chocolate chips, which give it just the right amount of richness. This is one muffin that will be impossible to stop eating, regardless of the season!
Ingredients
1-1/2 cups all-purpose flour
1 cup whole wheat flour
2 tablespoons baking powder
2 tablespoons pumpkin pie spice
1 pinch salt
2 eggs
2 teaspoons vanilla extract
1-1/3 cup pumpkin purée (not pumpkin pie filling)
1/3 cup canola oil
1 cup milk chocolate chips
Directions
Preheat your oven to 350 degrees F. Line a muffin tin with liners or spray with cooking spray. Set aside. In a large bowl, sift flour, sugar, baking powder, cinnamon and salt together. Form a well in the middle. Add eggs, vanilla, pumpkin and oil. Using a wooden spoon, stir until fully mixed. Add chocolate chips and nuts, stir until incorporated.
Put two tablespoons of batter into each cup (or until 3/4 of the way full). Bake for 20-22 minutes, or until browned.