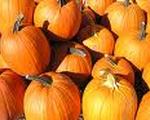 Prep: 20 min
Cook Time: 45 min
Total: 1 hr 5 min
Serving: 8
Pumpkin Bread in a Jar is baked in wide mouth pint jars. This recipes makes 8 pint jars so it's a great recipe for gift giving.
Ingredients
2/3 cups vegetable shortening
4 eggs
2/3 cups water
1/2 teaspoon baking powder
1 1/2 teaspoons salt
1 teaspoon ground cloves
2 2/3 cups sugar
2 cups canned pumpkin
3 1/3 cups flour
2 teaspoons baking soda
1 teaspoon cinnamon
2/3 cup pecans, chopped
8 Kerr wide mouth pint canning jars
Directions
Cream together shortening and sugar. Beat in eggs, pumpkin and water. Sift together flour, baking powder, baking soda, salt, cinnamon and cloves. Add to pumpkin mixture. Stir in nuts.
Pour mixture into 8 well greased pint jars, filling them half full with batter.
Bake at 325 degrees F for about 45 minutes. When done, remove one jar at a time from oven. Clean sealing edge of jars and screw caps on tightly.