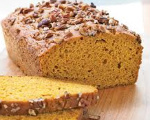 Prep: 10 min
Cook Time: 1 hr 10 min
Total: 1 hr 20 min
Serving: 2 loaves
Old fashioned pumpkin bread from scratch.
Ingredients
3 cups flour
1 teaspoon baking powder
1 teaspoon salt
2 teaspoons cinnamon
1/2 teaspoon nutmeg
1/4 teaspoon ground cloves
2 eggs (beaten)
1 1/4 cups cooked pumpkin
1 cup milk
1 cup brown sugar
1 teaspoon baking soda
1/2 cup cooking oil
1 cup pecans
Directions
Preheat the oven to 350 degrees Fahrenheit.
Sift together the flour, baking powder, salt, cinnamon, nutmeg and cloves. In a separate bowl, mix together the eggs, pumpkin, milk, sugar, baking soda and oil. Slowly stir the flour mixture into the pumpkin mixture. Fold in the pecans.
Pour the batter into two prepared loaf pans. Bake for 1 hour and 10 minutes.