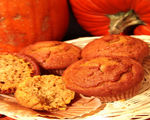 Prep: 20 min
Cook Time: 30 min
Total: 50 min
Serving: 18
My kids love these and they're easy to prepare and perfect to pack into their lunches, or on-the-go.
Ingredients
1 1/2 cups all-purpose flour
2 cups whole wheat flour
2/3 cup rolled oats
1/2 cup Fiber One Cereal, crushed
4 teaspoons baking powder
2 teaspoons baking soda
1/2 teaspoon salt
4 teaspoons cinnamon
2 teaspoons ground ginger
1 teaspoon nutmeg
3 ripe bananas, mashed
1 cup applesauce
15 ounces canned pumpkin
4 egg whites, lightly beaten
1 cup Splenda granulated sugar
Directions
Preheat oven to 350.
Grease pan or line muffin tins with paper liners.
In a medium-sized bowl, mix together flours, cereal, oats, baking powder, spices, baking soda and salt.
Stir until all ingredients are mixed well.
Combine remaining ingredients in a large mixing bowl and beat until smooth.
Gradually poor in the flour mixture.
Mix well.
Spoon the mixture into the greased pans or tins.
Bake for 25 to 30 minutes, until toothpick comes out clean.