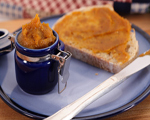 Prep: 10 min
Cook Time: 1 hr 30 min
Total: 1 hr 40 min
Serving: Makes 3 cups
This easy-to-make spread is ideal for many breakfast type foods such as toast, biscuits and bagels to name a few. Keep refrigerated in an airtight container for up to 2 months.
Ingredients
1-1/2 cups canned pumpkin
1 cup grated apple, peeled
1 cup apple juice
1/2 cup brown sugar
1/2 teaspoon cinnamon
1/2 teaspoon nutmeg
Directions
Combine pumpkin, apple, brown sugar, apple juice, cinnamon and nutmeg in a medium saucepan; bring to a boil, then reduce to low heat.
Cook for 1-1/2 hours, stirring occasionally.