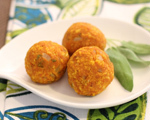 Prep: 15 min
Cook Time: 22 min
Total: 37 min
Serving: Makes 16 balls
These sweet and savory pumpkin and fresh sage balls can be served individually as an appetizer or grouped together to form a main dish.
Ingredients
2 tablespoons olive oil
1/2 cup finely diced onions
2 cloves of garlic, minced
2-1/2 teaspoons of minced fresh sage
1 cup pumpkin puree
1 cup panko bread crumbs
1 egg
1/2 teaspoon salt
1/4 teaspoon ground pepper
Directions
Preheat your oven to 375 degrees and line a baking sheet with nonstick aluminum foil.
Place the olive oil in a hot sauté pan over medium heat and sauté the onion for 8 minutes until soft. Add the garlic and fresh sage to the pan and cook for two additional minutes before removing the pan from the heat.
Transfer the onion mixture to a bowl along with the panko, pumpkin puree, lightly beaten egg, salt and pepper; stir well to combine. Form the mixture into 2-inch balls and place on the prepared baking sheet.
Put the pumpkin and fresh sage balls into the oven and cook for 12 minutes or until golden brown. Serve immediately.