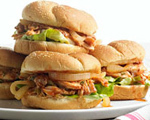 Prep: 12 min
Cook Time: 12 min
Total: 24 min
Serving: 6 Servings
'Pulled Meat' is a form of barbecue and a method or preparation where meat is slowly cooked over low heat for a long period of time until it is so tender that it can be 'pulled' into pieces. In this recipe purchased roasted chicken is used to provide the same result in less time.
Ingredients
12-pound purchased roasted chicken
1 medium onion, cut in 1/4-inch slices
1 tablespoon olive oil
1/3 cup cider vinegar
1/2 cup tomato sauce
4 tablespoons seeded and finely chopped fresh red and/or green serrano chile peppers
2 tablespoons snipped fresh thyme
2 tablespoons molasses
2 tablespoons water
1/2 teaspoon sea salt
6 Kaiser rolls or hamburger buns, split
Sweet pickles to garnish
Directions
Remove the meat from the chicken and shred with your fingers or with two forks into small pieces.
Place the oil into a sauté pan over medium heat. Once the oil begins to shimmer, add the onion and cook for 5 minutes then stir in the vinegar and cook for 1 minute more.
Add the tomato sauce to the pan along with the serrano peppers, thyme, molasses, water and salt, and bring the mixture to a boil. Add the chicken, stir to coat and cook until mixture is heated through.
Spoon the chicken onto the buns, top with sweet pickles and serve immediately.