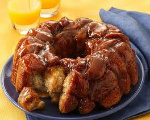 Prep: 15 min
Cook Time: 45 min
Total: 1 hr
Serving: 8-12 servings
Easy and yummy breakfast or dessert.
Ingredients
Vegetable cooking spray
3 (11 ounce) packages soft breadsticks
3/4 cup fat-free squeeze margarine
1 1/4 cups sugar
2 heaping tablespons cinnamon
Directions
Preheat the oven to 325 degrees Fahrenheit. Grease a bundt pan with cooking spray.
Remove the breadsticks from the can. Cut in half. Roll into balls.
Place the margarine into one bowl. Combine the cinnamon and sugar in another.
Rolls the balls in the margarine and then in the sugar mixture. Place in the bundt pan.
Bake for 40-45 minutes.