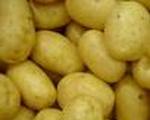 Prep: 15 min
Cook Time: 45 min
Total: 1 hr
Serving: 4
Serve Provencal Beef and Potato Pie with a green salad and sliced tomatoes.
Ingredients
1 onion, chopped
2 garlic cloves, chopped fine
1 1/2 tablespoons olive oil
1 pound ground beef
salt and pepper
1 teaspoon thyme
1 teaspoon marjoram
1 1/2 pounds potatoes
1, 16 ounce can whole tomatoes
3 tablespoons dry bread crumbs
1 tablespoon fresh parsley, chopped
Directions
Cook onion in 1 tablespoon olive oil until soft. Add garlic and cook 1 minute. Crumble beef into pan, add 1 teaspoon salt, 1/2 teaspoon pepper, thyme and marjoram and cook until browned.
Peel potatoes and slice thin. Drain and chop tomatoes. Add tomatoes and bread crumbs to beef.
Grease a 2 quart glass casserole dish. Arrange half of the potatoes, overlapping on bottom and half way up sides of baking dish. Pack beef into potato shell. Cover with potato slices. Spread with remaining 1/2 tablespoon oil.
Bake at 450 degrees F for 35 minutes or until browned. Invert onto a serving dish and sprinkle with parsley.