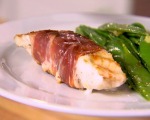 Prep: 10 min
Cook Time: 20 min
Total: 30 min
Serving: Serves 4 people
Prosciutto-wrapped Cod is a perfect pairing of the salted prosciutto with the mild-flavored cod. This makes a great meal served with fresh veggies.
Ingredients
4 halibut fillets (about 6 ounces each)
2 cloves garlic, minced
8 thin slices of prosciutto (about 4 ounces)
1 tablespoon olive oil (plus an additional teaspoon, divided)
1/4 cup dry Marsala wine
1/2 teaspoon salt
1/2 teaspoon black pepper
8 sage leaves
Directions
Preheat your oven to 400 degrees F. In a small bowl combine 1 tablespoon of olive oil with the garlic. Brush this over both sides of the fillets. Wrap two slices of the prosciutto around each fillet. Tuck 2 sage leaves into each fillet, between the fish and prosciutto.
Use a large, ovenproof skillet and add 1 teaspoon olive oil to the pan over medium-high heat. Add the fillets, top sides down. Cook for about 3-4 minutes, or until the prosciutto is crisp. Turn the fish and transfer the skillet to the oven. Bake for about 8-10 minutes, or until the fish is opaque in the middle.
Transfer the fish to dishes for serving and keep warm. Deglaze the skillet by adding the wine and cooking over medium-high heat, stirring constantly and scraping up the browned pieces. Cook, stirring constantly, for about 3 minutes. The mixture should be reduced by about half. Spoon the sauce over each fillet and serve.