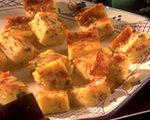 Prep: 20 min
Cook Time: 35 min
Total: 55 min
Serving: 25 appetizers
Dainty bites of prosciutto, mushrooms and Provolone cheese, seasoned with chives and white pepper.
Ingredients
1 tablespoon butter
1/2 cup chopped mushrooms
1/4 cup chopped onion
1/4 cup chopped chives
16 ounces (4 cups) Provolone Cheese, shredded
2 ounces sliced prosciutto, finely chopped
4 eggs, beaten
1/2 teaspoon white pepper
Directions
Preheat the oven to 350 degrees.
Place the butter in a large sauté pan over medium heat. Once sizzling, add the mushrooms and onion and sauté for 3 minutes. Remove the mixture from the heat and set aside to cool for 10 minutes.
In the meantime, place the chives, cheese, prosciutto, eggs and pepper into a bowl and mix until combined.
Stir the onion mixture into the cheese mixture and then transfer to an 8-inch square baking dish. Bake for 35 minutes, or until a toothpick inserted into the middle of the bread tests clean.
Remove the bread, let stand for 4 minutes and then cut up into small squares and serve immediately.