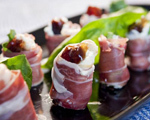 Prep: 5 min
Cook Time: 15 min
Total: 20 min
Serving: Makes 10 appetizers
Salty slices of extra thin prosciutto rolled around a creamy cheese, nut and date mixture makes an elegant and delicious cocktail party hors devours.
Ingredients
2 tablespoons cream cheese
3 tablespoons Danish blue cheese
5 slices of prosciutto, halved
10 dates, pitted
5 almonds, halved
5 basil leaves, halved
5 mint leaves, halved
1 pinch salt
1 pinch pepper
2 tablespoons olive oil
Directions
Place the cream cheese and the blue cheese in a bowl and mix until thoroughly blended.
Stir in the almonds, olive oil, salt and pepper and mix to combine.
Put a date on the end of a slice of prosciutto then add 1 tablespoon of the cheese filling, half of a basil leaf and half of a mint leaf. Roll up the slice and then place on a serving plate. Serve immediately.