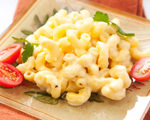 Prep: 10 min
Cook Time: 30 min
Total: 40 min
Serving: 6 People
Put a twist on this comfort food with Activia yogurt for probiotic benefits.
Ingredients
1 (16 ounce) package macaroni
2 1/2 cups shredded sharp cheddar cheese
1/2 cup Dannon Activia Yogurt
1 tablespoon butter
2 teaspoons Greek seasoning
1/4 tablespoon dried basil
Salt and pepper to taste
Directions
In a large pot over medium high heat, cook macaroni pasta in boiling salted water until al dente. Drain well. In a large saucepan over medium heat, melt cheddar cheese, Activia yogurt, and butter . Cook until smooth consistency forms. Add salt, black pepper, Greek seasoning, and basil to taste. Add in cooked pasta and stir well. Heat macaroni and cheese for 10-15 minutes at low heat; stirring occasionally. Serve warm.