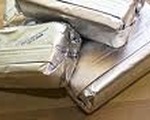 Prep: 6 hr 15 min
Cook Time: 10 min
Total: 6 hr 25 min
Serving: 10
Pretend Pate is made with liver sausage and cream cheese. Serve on dark rye bread.
Ingredients
1 envelope unflavored gelatin
1, 10 ounce can beef consomme
1, 8 ounce package cream cheese
1, 8 ounce tube fine liver sausage
1/2 teaspoon horseradish
1 1/2 teaspoons Worcestershire sauce
1/2 teaspoon Tabasco sauce
salt and pepper to taste
Directions
Dissolve gelatin in consomme in saucepan over low heat. Pour half the consomme into 4 cup mold. Chill in refrigerator until firm.
Combine remaining ingredients and remaining liquid consomme in food processor container. Process until smooth. Pour over first layer in mold. Chill in refrigerator until firm. Umold and serve with dark rye bread.