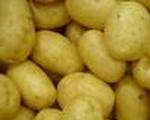 Prep: 25 min
Cook Time: 40 min
Total: 1 hr 5 min
Serving: 8
Classic Potato Au Gratin can't be beat with a juicy Porterhouse steak.
Ingredients
1/4 cup butter
3 tablespoons flour
1/2 teaspoon salt
1/8 teaspoon pepper
3 cups milk
8 medium potatoes, cooked, pared and sliced
1/2 cup buttered soft bread crumbs
1/2 cup Cheddar cheese, shredded
1/4 cup green pepper, diced
2 tablespoons pimento, diced
Directions
Melt butter, stir in flour, salt and pepper; cook until bubbly. Add milk gradually. Cook over medium heat stirring constanly, until thickened. Reduce to simmer. Simmer for 5 minutes stirring occasionally.
Pour over potatoes arranged in a greased 2 quart casserole dish. Sprinkle top with bread crumbs. Bake at 325 degrees F for 20 minutes. Sprinkle with cheese. Bake 10 minutes or until cheese is melted. Garnish with pimento and green pepper.