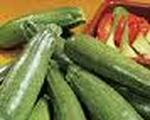 Prep: 35 min
Cook Time: 1 hr 10 min
Total: 1 hr 45 min
Serving: 8
A great meatless meal, Potatoes and Zucchini Au Gratin will satisfy the vegetarian or picky eater.
Ingredients
5 medium potatoes
3 medium zucchini, cut into 1/4 inch slices
3 tablespoons butter
3 tablespoon flour
1 teaspoon chicken flavored bouillon granules
1 1/2 cups milk
1 cup Cheddar cheese, shredded
1, 2 ounce jar diced pimento, drained
1/2 teaspoon dried thyme
1, 2.8 ounce can French-fried onion rings
Directions
Cook potatoes in boiling water 25 to 30 minutes or until tender; drain and cool to touch. Peel and cut into 1/4 inch slices. Set aside.
Cook zucchini, covered, in a small amount of boiling water 5 minutes; drain well and set aside.
Melt butter in a heavy saucepan over low heat; add four and bouillon, stirring until smooth. Cook 1 minute, stirring constantly. Gradually add milk; cook over medium heat, stirring constantly, until thickened and bubbly. Remove from heat; add cheese, pimento and thyme. Stir until cheese melts.
Layer half each of potatoes, zucchini and sauce mixture in a lightly greased 2 quart casserole; repeat layers. Cover and bake at 350 degrees F for 30 minutes. Sprinkle with fried onion rings; bake uncovered for 5 minutes.