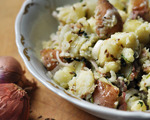 Prep: 15 min
Cook Time: 10 min
Total: 25 min
Serving: Serves 4 to 6
Toasting cumin really brings out its flavor and gives this dish aromatic undertones and an enjoyable, nutty crunch.
Ingredients
2 tablespoons sea salt
2 pounds red potatoes, chopped into roughly 2-inch pieces
1 bunch cilantro, trimmed and chopped
3 large shallots, thinly sliced
1/4 cup olive oil
1-1/2 tablespoons whole cumin seeds
1/2 lemon
Freshly ground black pepper
Directions
Place a large pot of salted water over high heat to boil. Once boiling, add the potatoes and cook for 10 minutes until tender. Drain the potatoes well using a colander and then place back into the pot.
In the meantime, put the olive oil into a sauté pan and set over medium-high heat. Once the oil begins to shimmer, add the cumin and toast for 45 seconds, stirring frequently.
Transfer the toasted cumin seeds, cilantro, shallots, lemon juice and a few grinds of fresh black pepper to the pan with the potatoes, and toss gently to combine. Season the dish with additional salt or lemon juice to taste and then serve.