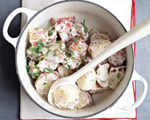 Prep: 25 min
Cook Time: 20 min
Total: 45 min
Serving: Serves 4
A refreshing, more intensely flavored potato salad, made with a mix of fresh herbs and lemon. The perfect side dish to grilled meats on a hot summer day.
Ingredients
3 pounds baby red potatoes
salt and freshly ground pepper
3 tablespoons unseasoned rice vinegar
3/4 cup mayonnaise
3 medium green onions, thinly sliced
1 celery stalk, cut into 1/3-inch cubes
1/4 cup chopped fresh parsley
1/4 cup chopped fresh basil
2 tablespoons chopped fresh dill
1-1/2 teaspoons finely grated lemon peel
Directions
Fill a large pot with water and bring to a rolling boil.
Drop in potatoes and cover until boiling, then reduce heat to medium-low and simmer for about 15 minutes, or until potatoes are tender. Drain, and set aside to cool.
Cut the potatoes into about 3/4-inch pieces, and sprinkle with sea salt and freshly ground pepper.
Place in a large serving bowl and mix with remaining ingredients. Toss well to coat and then chill in the refrigerator for at least 2-3 hours.