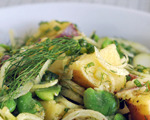 Prep: 10 min
Cook Time: 10 min
Total: 20 min
Serving: 4 Servings
Tender chunks of red potato are tossed with buttery fava beans and thin slices of crisp fennel in this satisfying spring salad.
Ingredients
1 pound red potatoes , scrubbed
1 pound fava bean pods, shelled (about 1 cup)
1 small fennel bulb, thinly sliced (about 1 cup)
2 tablespoons chopped fennel fronds
2 tablespoons chopped chives
3 tablespoons extra virgin olive oil
1 tablespoon fresh lemon juice
1 teaspoon lemon zest
Sea salt and freshly ground black pepper
Directions
Put the potatoes into a large pot and cover with salted water. Bring the mixture to a boil and then cook the potatoes over medium heat for about 10 minutes or until the potatoes are tender but not mushy. Drain the potatoes well and set aside to cool.
In the meantime, place the shelled fava beans into a pot of boiling water and blanch for 3 minutes. Transfer the beans to a bowl of cold water and then drain well.
Cut the cooled potatoes into quarters and then place into a large serving bowl along with the fava beans.
Place the olive oil, lemon juice, and lemon zest, into a small bowl and whisk vigorously to blend.
Pour the dressing over the potato mixture and then add the sliced fennel, fennel fronds, chives and a few pinches of salt and pepper. Toss gently to combine and serve.