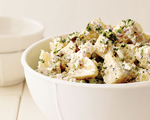 Prep: 10 min
Cook Time: 20 min
Total: 30 min
Serving: 6 Servings
Tossing warm potatoes with a creamy hummus dressing adds considerable flavor and richness to an otherwise boring potato salad.
Ingredients
2 pounds Yukon Gold potatoes, scrubbed
1/2 cup hummus (homemade preferred)
3/4 cup Greek plain yogurt
1 cup finely diced celery
1/4 cup finely diced cornichons
1/4 cup chopped flat-leaf parsley
3 tablespoons finely diced sweet onion
Sea salt and freshly ground pepper
Directions
Place the potatoes in a large pot and cover with salted water. Bring the water to a boil and then cook the potatoes over medium heat for 20 minutes. Drain the potatoes, peel and then cut into 1-inch pieces once cool enough to handle. Set aside.
Put the hummus, yogurt, celery, cornichons, parsley and onion into a large bowl. Vigorously stir the mixture until thoroughly blended.
Add the potatoes to the bowl along with a few pinches of salt and pepper, and gently toss to coat.