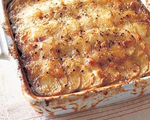 Prep: 25 min
Cook Time: 1 hr 15 min
Total: 1 hr 40 min
Serving: 6 Servings
The creamy Mascarpone cheese pairs wonderfully with the earthy taste of the mushrooms in this potato gratin side dish. Use a variety of wild mushrooms for an even deeper mushroom flavor.
Ingredients
4 cups chopped wild mushrooms
1 cup boiling water
2 tablespoons (1/4 stick) butter
2 tablespoons extra-virgin olive oil
1/4 cup plus 4 tablespoons grated Parmesan cheese
1-1/2 cups Mascarpone cheese
1 cup whipping cream
3 garlic cloves, chopped
Pinch of freshly grated nutmeg
5 large russet potatoes, peeled, cut crosswise into 1/8-inch-thick slices
Directions
In a large sauté pan over medium heat, melt the butter with the oil and sauté the mushrooms for 5 minutes. Sprinkle with salt and pepper and set aside on a plate.
Add the Parmesan cheese, Mascarpone cheese, cream, garlic, nutmeg and a sprinkle of salt and pepper to the pan, and whisk to blend.
Preheat the oven to 325 degrees and grease a baking dish.
Place the potato slices on the bottom of the prepared dish, slightly overlapping, and then season with salt and pepper. Spoon about 1/4 of the wild mushrooms over the potatoes and then add half of the cheese mixture on top. Top with the remaining potatoes and mushrooms and then spread on the remaining cheese mixture with 4 tablespoons of Parmesan sprinkled over the top.
Place in the oven and bake for 1 hour and 15 minutes. When ready, remove and let rest for 15 minutes before serving with a large spoon.