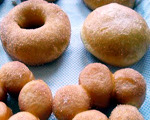 Prep: 2 hr 10 min
Cook Time: 15 min
Total: 2 hr 25 min
Serving: 12
Ingredients
1/2 cup shortening
2 cups milk, scalded
1 1/2 packages yeast
3 eggs, beaten
1 cup sugar
1 1/2 teaspoons salt
1 cup freshly mashed potatoes
1/2 teaspoon cinnamon
1/2 teaspoon lemon extract
8 cups flour
oil for deep frying
3/4 cup confectioners' sugar, sifted
1/2 teaspoon vanilla extract
Directions
Add shortening to milk, stirring until melted; set aside to cool.
Dissolve yeast in 1/4 cup warm water. Beat eggs in bowl until frothy. Beat in sugar and salt gradually. Stir in next 3 ingredients, milk mixture and yeast, mixing well. Add flour, 1 cup at at time, to make soft dough.
Knead on lightly floured surface until smooth and elastic. Place in greased bowl, turning to grease surface. Let rise, covered, until doubled in bulk.
Roll out 1/2 inch thick; cut with floured doughnut cutter and place on greased cookie sheet. Let rise, covered with moist cloth, until doubled in bulk.
Deep fry at 350 degrees F.
Combine remaining ingredients with 3 to 4 teaspoons water in small bowl, blending until smooth. Drizzle over doughnuts.