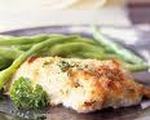 Prep: 20 min
Cook Time: 25 min
Total: 45 min
Serving: 6
Substitute 1 inch thick salmon steaks for the halibut in Potato Crusted Halibut Steaks.
Ingredients
1/4 cup mayonaise
1 tablespoon capers, chopped and drained
4 flat anchovies, rinsed, patted dry and chopped fine
6, 1 inch thick boneless halibut steaks
3/4 pound russet baking potatoes
2 tablespoons olive oil plus additional if necessary
Directions
Preheat oven to 400 degrees F and lightly oil a shallow baking pan.
In a small bowl stir together mayonaise, capers, anchovies and salt and pepper to taste.
Pat dry halibut steaks and season with salt and pepper. Spread mayonaise mixture evenly on top of steaks.
Peel potatoes and quarter lengthwise. Grate potatoes coarse, using a food processor. Pat a 1/4 cup potato mixture evenly on mayonaise mixture on each steak.
In a large skillet heat 2 tablespoons oil until hot but not smoking. Arrange 2 steaks, potato side down in oil and cook, about 5 minutes or until potato is golden brown and cooked through. Carefully invert steaks as browned in oiled shallow pan and sprinkle with salt and pepper. Repeat with remaining steaks, adding more oil as needed.
Bake steaks in pan in oven for 10 to 15 minutes.