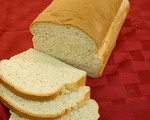 Prep: 2 hr 25 min
Cook Time: 45 min
Total: 3 hr 10 min
Serving: 8
Potato Cheese Loaf is moist and tender with the addition of instant mashed potato flakes.
Ingredients
1-1/4 cups milk
1- 1/4 cups Cheddar cheese, shredded
1 teaspoon salt
1 tablespoon sugar
1 tablespoon butter
1/2 cup instant mashed potato flakes
1 package dry yeast
1 egg
2-1/2 cups to 3 cups flour
Directions
Combine milk, cheese, salt, sugar and butter in saucepan. Heat until cheese is melted, stirring frequently. Stir in potato flakes. Cool to lukewarm.
Dissolve yeast in 1/4 cup warm water in large bowl. Beat in cheese mixture and egg until smooth. Add enough flour to make a soft, sticky dough. Turn onto a floured surface.
Knead until smooth and elastic, adding flour as necessary to keep dough from sticking to board. Shape into a ball; place in a greased bowl and turn to grease surface.
Let rise, covered, in warm place until doubled in bulk. Punch dough down; turn onto floured surface. Knead for a few minutes. Shape into a loaf.
Place into a greased 9 x 15-inch loaf pan. Let rise, covered, until doubled in bulk. Bake at 375 degrees F for 35 to 40 minutes or until brown.