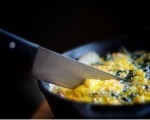 Prep: 15 min
Cook Time: 25 min
Total: 40 min
Serving: Serves 6 people
Looking for something different for brunch or as a nice dinner? Potato & Swiss Chard Frittata might hit the spot. Cheesy and hearty this will hit the spot.
Ingredients
1 tablespoon of extra-virgin olive oil
Half a bunch of Swiss Chard, stems removed and coarsely chopped
2 cups of peeled, cubed & cooked potato
Salt and pepper to taste
8 large eggs, lightly beaten
1/2 cup of Gruyere cheese, grated
Directions
Preheat your oven to 425 degrees. Using a 10-inch ovenproof non-stick skillet, heat the oil over medium-high heat. Add the Swiss chard and potato, season with the salt and pepper and cook until the chard is slightly wilted and the potatoes are tender.
Add the eggs and Gruyere cheese to the potato mixture and season with some salt and pepper. Stir the mixture to combine. Cook without stirring until the edges are set (about 2-3 minutes). Transfer the skillet to the oven and bake for 10-14 minutes, or until the top of the frittata is set.
Once cooked, invert the frittata onto a plate that's about the same size as the frittata. Cut into wedges and serve.