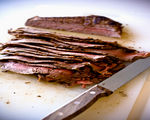 Prep: 15 min
Cook Time: 10 hr
Total: 10 hr 15 min
Serving: 6
You will find this combination of flavors delicious.
Ingredients
3 lb. chuck roast
1 tbsp. cooking oil
2 turnips, peeled and cut into 1 inch pieces
3 carrots, cut into ½ inch pieces
1 can condensed tomato soup (10¾ oz.)
1/3 cup dry red wine
3 tbsp. quick-cooking tapioca
1/8 tsp. ground allspice
1/8 tsp. pepper
1 lb. winter squash, peeled, seeded and cut into 1½ to 2 inch pieces
Directions
After trimming fat place roast in a large skillet brown roast on all sides in hot oil.
Meanwhile, place turnips, carrots, tomato soup, red wine or water, tapioca, allspice, and pepper in crock pot.
Mix together.
Place roast on top of vegetables.
Put squash on top of roast.
Cover and cook on low for 10 to 12 hours (high 5 to 6 hours).
Put roast and vegetables on a serving platter.
Skim the fat from the gravy so you can serve the gravy with the pot roast.