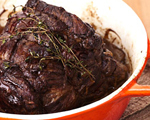 Prep: 1 hr 30 min
Cook Time: 1 hr 30 min
Total: 3 hr
Serving: Serves 4-6
Use a Dutch oven for this recipe and let the flavors meld together as it slowly cooks in the oven.
Ingredients
4 pounds chuck roast
Sea salt and freshly ground pepper
2 tablespoons olive oil
4 large onions, thinly sliced
2 teaspoons fresh thyme
1 bay leaf
1 (12-ounce) bottle of ale beer
1/2 cup water
1 bouillon cube
1 heaping cup dried porcini mushrooms, rinsed and coarsely chopped
2 tablespoons Dijon mustard
Directions
Sprinkle the meat with salt and pepper and let sit at room temperature for 1-1/2 hours.
Preheat the oven to 300 degrees.
Heat the olive oil in a Dutch oven over medium-heat and brown the meat on all sides. Remove from pan and set aside on a plate.
Add in the onions, thyme, bay leaf, and 2 pinches of salt and pepper to the pan, and cook for 6 minutes, stirring frequently.
Add the beer, water and the bouillon cube and bring to a boil. Add the mushrooms and bring the mixture back to a boil.
Place the beef back into the Dutch oven, cover and roast for 1 hour.
Remove the beef and boil the sauce for about 6 minutes until thick. Stir in the mustard and add a pinch of salt and pepper. Slice the beef and place on a platter. Spoon over the sauce and serve immediately.