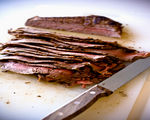 Prep: 15 min
Cook Time: 10 hr
Total: 10 hr 15 min
Serving: 6
A complete meal made simple.
Ingredients
3 lb. chuck roast
1 tbsp. cooking oil
1 1/4 c. tomato juice
¼ c. vinegar
2 tsp. Worcestershire sauce
½ tsp. salt
½ tsp. dried basil, crushed
½ tsp. dried thyme, crushed
¼ tsp. pepper
2 clove garlic, minced
7 carrots, cut into ½ inch pieces
6 boiling onions
¼ c. quick-cooking tapioca
Directions
In a skillet brown roast on all sides in hot oil.
In a bowl combine tomato juice, vinegar, Worcestershire sauce, sugar, salt, basil, thyme, pepper, and garlic.
Place carrots and onions in crock pot.
Sprinkle tapioca over vegetables.
Put roast on top of vegetables.
Pour tomato mixture over roast.
Cover and cook on low for 10 to 12 hours (high 5 to 6 hours).
Move meat and vegetables to a platter.
Remove fat from gravy.
Serve gravy with meat and vegetables.
Add mashed potatoes to the menu and you are all set.