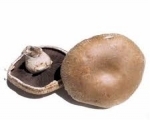 Prep: 15 min
Cook Time: 6 min
Total: 21 min
Serving: 4 people
This with this Portobello mushroom burger with mozzarella and roasted red pepper, you'll never miss the meat.
Ingredients
4 large portobello mushrooms
2 tablespoons olive oil
1-2 tablespoon balsamic vinegar
salt and pepper to taste
4 large sourdough rolls
2 tablespoons fresh basil, chopped
4 slices tomato
4 slices fresh mozzarella
4 large pieces of jarred roasted red pepper
1 cup arugula
Directions
Set your oven to broil.
Wipe the mushrooms clean with a dry cloth, then scrape the "gills" off the mushrooms.
Whisk together olive oil, vinegar, salt and pepper, then brush the mixture all over the mushrooms.
Place the caps on a baking sheet sprayed with non-stick cooking spray.
Broil the caps about 2 to 3 minutes on each side.
Before the last minute of broiling, remove the caps from the oven and top each with a slice of cheese.
Return to the oven and broil until cheese is melted and bubbly, about one minute.
Cut rolls in half, place each cap on the bottom side of each roll.
Top with tomato, basil, roasted red pepper and a little bit of arugula.
Top with remaining half of roll and enjoy!