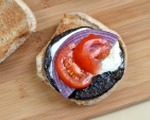 Prep: 15 min
Cook Time: 15 min
Total: 30 min
Serving: 3 People
Got a mean craving for a juicy, fresh-off-the-grill burger, but without the greasy heaviness that comes with ground beef? Skip the butcher next time you're grocery shopping and hit up the produce aisle instead! These succulent portobello mushroom cap cheeseburgers are incredibly flavorful, light and have the meaty texture you're looking for when taking a bite out of a grilled burger. But these come with over 70 percent less fat and calories than beef or turkey. Who knew going vegetarian could be so darn delicious?
Ingredients
3 large portobello mushroom caps
2 tablespoons balsamic vinegar
1-1/2 tablespoons extra virgin olive oil
1 teaspoon chopped fresh basil
1-1/2 teaspoons Italian seasoning
3 slices fresh mozzarella
Salt and pepper to taste
Whole wheat buns
Directions
Place mushrooms in a shallow, large bowl. In another bowl, whisk together the vinegar, olive oil, basil, Italian seasoning and salt and pepper.
Pour marinade over mushroom caps, cover and let sit at room temperature for at least 25 minutes.
Preheat grill to 450 degrees F. Grease grill grates with nonstick cooking spray. Place mushroom caps on the grill and brush with marinade. Cook for six to eight minutes on each side or until the mushrooms are soft.
Remove from heat, place cheese on top immediately and serve on a warm bun!