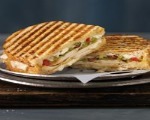 Prep: 10 min
Cook Time: 20 min
Total: 30 min
Serving: Serves 2 people
This recipe for portobello and fontina cheese panini sandwiches can be customized by adding your favorite ingredients to the basics. A tasty treat for lunch or dinner, serve with a green salad or fresh fruit.
Ingredients
2 teaspoons olive oil
2 large portobello mushrooms, stems removed
Salt and black pepper to taste
2-3 tablespoons sun-dried tomato pesto (or regular pesto)
4 slices crunchy Italian bread
4 ounces fontina cheese, sliced
1/2 cup fresh basil leaves
Extra olive oil
Directions
Preheat your oven broiler. Line a baking sheet with foil.
Drizzle 2 teaspoons of the olive oil over both sides of the mushrooms. Season with salt and pepper and place on the baking sheet, cap side down. Broil the mushrooms for about 4 minutes on each side until tender. When finished, cut into 1/4-inch-thick slices.
Evenly spread the pesto on 2 of the bread slices. Layer the mushrooms, cheese and basil. Top with the remaining bread. Lightly brush the outsides of the sandwiches with olive oil.
Heat a large skillet over medium heat. Add the sandwiches. Press them lightly with a spatula or weigh them down with a small plate. Cook for about 5 minutes on each side, or until the cheese is melted and the sandwiches are golden.