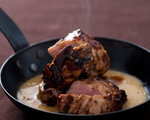 Prep: 15 min
Cook Time: 22 min
Total: 37 min
Serving: 4 Servings
This dish gives you good reason to invest in an ovenproof frying pan. It allows you to first brown the meat on top of the stove and then place directly into the oven to finish cooking without having to transfer the meat to a roasting pan.
Ingredients
1/4 cup pure maple syrup
3 tablespoons grainy mustard
2 tablespoons Dijon mustard
1 tablespoon mayonnaise
1 tablespoon lemon juice
1-1/2 pounds pork tenderloin
1 tablespoon vegetable oil
1/4 cup chicken broth
Directions
Preheat your oven to 425 degrees.
Place the maple syrup and grainy mustard in a saucepan over high heat and bring to a boil while whisking to combine. Cook the mixture for 5 minutes and then remove the pan from the heat; whisk in the mustard, mayonnaise and lemon juice.
Put the vegetable oil in an ovenproof frying pan over high heat. One the oil gets very hot, sprinkle the pork generously with salt and pepper and then place in the pan; brown on all sides.
Brush the pork with 4 tablespoons of the mustard mixture and then place in the oven for 15 minutes. Remove from the oven and let rest for 5 minutes before slicing.
In the meantime, place the frying pan over medium heat and add the remaining glaze and the broth. Cook for 1 minute, whisking constantly, and then serve with the pork.