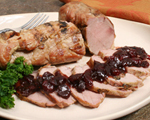 Prep: 25 min
Cook Time: 32 min
Total: 57 min
Serving: 4 Servings
Pork tenderloin is nothing spectacular unless it is paired with a glazed fruit and sauce. This dish offers a sweet and tangy sauce made from fresh cherries and balsamic vinegar.
Ingredients
1 pork tenderloin
1/3 cup bottled or homemade balsamic vinaigrette
1 tablespoon butter
1 large shallot, thinly sliced
1/3 cup canned chicken broth
3/4 cup tart cherries, washed and pitted
1/2 orange, juiced
Directions
Prepare the grill on high heat.
Sprinkle the pork loin with salt and pepper and then cover in aluminum foil to make a tent over the loin. Grill tenderloin for 12 per side.
At the same time, melt the butter over medium heat in a sauté pan. Add the shallot and sauté for 1 minute, shallot will be soft.
Pour the chicken broth and balsamic vinaigrette into to the pan and then add the cherries and a sprinkle with salt and pepper. Bring mixture to a boil and cook until sauce is slightly reduced, about 7 minutes.
Place the pork on a serving dish and pour over the cherry sauce.