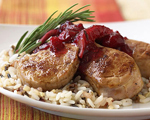 Prep: 1 hr
Cook Time: 34 min
Total: 1 hr 34 min
Serving: 2 Servings
This dish is incredibly easy to execute if you have made the chutney in advance or have purchased chutney from the store. Serve with a side of wild rice to soak up all the wonderful sauce.
Ingredients
2 1-1/4-pound trimmed pork tenderloins
1/2 cup apple cider
1/2 cup dry red wine
1 cup purchased apple chutney
2 garlic cloves, chopped
2 tablespoons fresh thyme leaves plus sprigs for garnish
2 tablespoons olive oil
Directions
In a shallow bowl, mix together the cider, wine, chutney, garlic, and thyme leaves with a whisk.
Rinse off the pork, pat dry with paper towels and place in the bowl to marinate, covered and at room temperature, for 1 hour.
Preheat the oven to 375 degrees.
In a medium-sized oven safe sauté pan, heat the oil over medium-high heat until hot but not smoking. Place the pork in the pan and sprinkle with salt and pepper. Sear pork for about 3 minutes on each side.
Pour the reserved marinade over the pork and transfer the pan to the oven. Roast pork for about 22 minutes for medium doneness and then transfer to a carving board. Tent the pork with some aluminum foil and let sit for 7 minutes.
Slice and serve pork onto plates and spoon over the chutney sauce. Garnish with thyme sprigs.