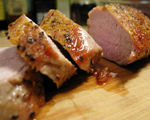 Prep: 15 min
Cook Time: 25 min
Total: 40 min
Serving: Serves 4
A wonderful mix of cloves, bay leaves and sage infuses this spiced pork tenderloin with vibrant flavors, making it the perfect backdrop for caramelized vegetables and brown rice.
Ingredients
1 teaspoon whole cloves
3 dried bay leaves
1/2 teaspoon whole black peppercorns
1 teaspoon dried sage, crumbled
2 teaspoons sugar
1/4 teaspoon salt
1pound pork tenderloin
1 tablespoon olive oil
Directions
Preheat the oven to 400 degrees.
In a mortar and pestle or spice grinder, grind the cloves, bay leaves, and whole peppercorns until reaching a fine consistency. Evenly rub the spice mixture all over the pork tenderloin.
In a large sauté pan, heat the olive oil over medium-high heat and sear the tenderloin on all sides, about 5 minutes total.
Place the tenderloin on a roasting pan in the oven and roast until an internal temperature inserted into the pork reads 140 degrees, approximately 20 minutes.
Remove pork from oven and let rest for 15 minutes before slicing.