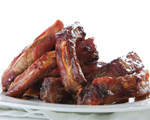 Prep: 15 min
Cook Time: 1 hr 30 min
Total: 1 hr 45 min
Serving: Serves 4 to 6
These sweet and sticky ribs taste just as amazing as they sound. Ask your butcher to cut the ribs between the bones.
Ingredients
Pork ribs with maple glaze
2 full racks (3 pounds) pork back ribs,
trimmed of visible fat
1⁄2 teaspoon sea salt
1⁄2 teaspoon freshly ground pepper
1⁄4 cup maple syrup
1⁄4 cup apricot preserve
2 tablespoons brown sugar
1 tablespoon soy sauce
1 tablespoon cider vinegar
Directions
Preheat your oven to 350 degrees and line a baking sheet with some parchment paper.
Place the ribs in a single layer on the prepared pan, sprinkle with the salt and pepper, and then put in the oven for 1 hour.
In the meantime, place the maple syrup, apricot preserve, brown sugar, soy sauce and cider vinegar into a medium-sized saucepan and bring to a boil.
Once boiling, reduce heat and simmer the mixture for 3 minutes.
Place the cooked ribs into a big bowl and pour in the sticky maple sauce. Toss to coat and then transfer the ribs back to the baking sheet. Place the ribs in the oven for 30 minutes or until crispy.