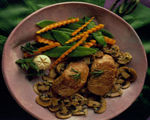 Prep: 10 min
Cook Time: 10 min
Total: 20 min
Serving: 4
When making this easy recipe, you can substitute apple juice for sherry, if you prefer. Serve these pork medallions with steamed asparagus or green beans, along with a side of scalloped potatoes. This recipe is sponsored by the National Pork Board.
Ingredients
1 pound pork tenderloin, cut into 8 crosswise pieces
1 tablespoon margarine
1 cup sliced fresh mushrooms
2 tablespoons finely chopped onion
3 teaspoons chopped fresh rosemary OR 1 teaspoon dried rosemary leaves, crushed
1/4 teaspoon celery salt
1 clove garlic, minced
1 tablespoon sherry
Fresh rosemary sprigs (optional)
Fresh mushrooms (optional)
Directions
Press each pork tenderloin slice to 1-inch thickness. Heat margarine in large heavy skillet over medium-high heat.
Brown pork quickly, about 1 minute on each side. Remove from heat. Place cooked pork slices on serving plate, reserving drippings. Keep warm.
Add mushrooms, onion, rosemary, celery salt, pepperand garlic to reserved drippings in skillet. Cook over low heat about 2 minutes, stirring frequently.
Add sherry; stir to blend. Return pork slices to skillet; spoon mushroom mixture over slices. Cover and simmer 3-4 minutes.
Place pork slices and mushrooms mixture on serving plate. Garnish with sprigs of fresh rosemary and fresh mushrooms caps, if desired.