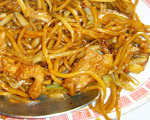 Prep: 15 min
Cook Time: 10 min
Total: 25 min
Serving: 6
Pork Chow Mein is full of vegetables and there is a touch of Sherry in the sauce.
Ingredients
1/2 cup celery, cut into 1 inch pieces
1/2 cup green onions, cut into 1 inch pieces
2 tablespoons vegetable oil
2 cups cooked pork, cut into 2 inch slices
1 cup bean sprouts, drained
1 cup mushrooms, sliced
1 green pepper, chopped
1/2 cup tomato, thinly sliced
1 cup beef consomme
1 tablespoon soy sauce
3 tablespoons Sherry
salt and pepper to taste
Directions
Stir fry celery and onions in oil in large skillet for 3 minutes. Add next 4 ingredients. Stir fry for 2 to 3 minutes. Add tomato and consomme. Stir in remaining ingredients.