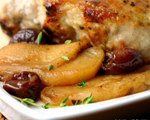 Prep: 30 min
Cook Time: 35 min
Total: 1 hr 5 min
Serving: Serves 4
In regard to taste, pork's most fitting companion is fruit. The pears and dried cherries in this dish create a wonderful glaze for the pork and a rich sauce that once mixed with the lager beer, makes a beautiful blend of flavors.
Ingredients
2 teaspoons olive oil
4 center-cut, bone-in pork chops
Salt, to taste
Freshly ground pepper, to taste
2 large pears, peeled, cored, and cut into 3/4-inch-thick wedges
1/2 cup dried cherries
1 bottle (12-ounce) lager beer
3/4 teaspoons dried sage
Directions
Heat the olive oil in a large sauté pan until very hot but not smoking.
Sprinkle each pork chop, on both sides, with salt and pepper.
Place chops in sauté pan and sear for 4 minutes per side, until golden brown. Set chops aside.
Remove all of the fat, except for one tablespoon, from the sauté pan and sauté the pears and cherries over medium-high heat for 6 minutes. Set aside with the pork chops.
Pour in the beer and add the sage to the sauté pan, scraping up any pieces stuck to the bottom of the pan. Place the pork chops, pears and cherries back into the sauté pan, bring to a simmer, and then cook partially covered, for about 7 minutes on low.
Remove the pears, cherries and chops from the pan, and turn up heat to medium-high. Boil the sauce for approximately 10 minutes to reduce liquid by about half.
Place pork chops, pears and cherries on individual plates and spoon over sauce. Serve immediately.