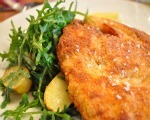 Prep: 10 min
Cook Time: 12 min
Total: 22 min
Serving: Serves 4 people
Sometimes it's difficult to cook pork chops well, but this recipe helps to ensure juicy goodness. Pork Chops Milanese makes a great meal with a side salad or fresh veggies.
Ingredients
4 boneless pork loin chops, cut 3/4-inch thick
2 tablespoons all-purpose flour
1 egg
1/4 cup seasoned bread crumbs (Italian seasonings)
1/4 cup Parmesan cheese, grated
1 tablespoon olive oil
1 teaspoon water
1 tablespoon butter
1/2 teaspoon salt
1/2 teaspoon black pepper
Lemon wedges and parsley (optional) for garnish
Directions
Preheat your oven to 400 degrees F. Use a shallow dish to combine the flour, salt and pepper. Beat the egg and water in a separate, small bowl. Using a shallow plate, combine the breadcrumbs and Parmesan cheese.
You'll dip each pork chop (both sides) first into the flour mixture, then the egg mixture and the bread crumb mixture. Pat down the coating onto the chop. Place each pork chop on waxed paper and refrigerate up to an hour.
Use a large, ovenproof skillet over medium-high heat and add the olive oil and butter until it's bubbly. Add the pork chops (two at a time if the pan doesn't hold all four at once). Cook on one side until golden. Turn the chops and place them in the oven for about 6-8 minutes. When done, a meat thermometer should read 160 degrees F.