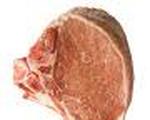 Prep: 15 min
Cook Time: 1 hr
Total: 1 hr 15 min
Serving: 4
Pork Chops in Wine is full of vegetables and an Italian favorite.
Ingredients
3 tablespoons olive oil
1/2 pound small mushrooms
1 onion, sliced
1 garlic clove, crushed
4 pork loin blade, rib or loin chops, 3/4 inch thick
3/4 cup dry white wine
3/4 cup water
1/2 teaspoon basil
1/2 teaspoon salt
1/8 teaspoon pepper
2 tomatoes, diced
1 tablespoon parsley, chopped
Directions
In 12 inch skillet over medium heat, in hot olive oil, cook mushrooms, onion and garlic until vegetables are tender, stirring occasionally. With slotted spoon, remove mushroom mixture to small bowl.
In drippings remaining in skillet, add oil if necessary, over medium-high heat, cook pork chops until browned on both sides. Add wine, water, salt, basil, and pepper; heat to boiling, stirring to loosen brown bits from bottom of skillet. Reduce heat to low; cover and simmer 45 minutes.
Return mushroom mixture to skillet; add tomatoes. Cover and cook until vegetables are heated through and meat is fork tender, about 15 minutes longer. Skim off fat from liquid in skillet; sprinkle with parsley.