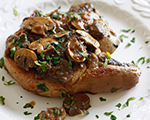 Prep: 10 min
Cook Time: 13 min
Total: 23 min
Serving: 2 servings
This recipe makes a simple dinner for two that is both delicious and healthy. If you don't have any vermouth on hand, use unsweetened apple juice, or purée a peeled apple and mix with 2 tablespoons of water instead.
Ingredients
2 5-ounce boneless, center-cut pork loin chops, trimmed and pounded to 1/4 inch thick
1/4 teaspoon salt
1/4 teaspoon freshly ground pepper
1-1/2 teaspoons extra-virgin olive oil
1 medium shallot, minced
1-1/2 cups sliced mushrooms (about 4 ounces)
1/2 cup dry vermouth
1 teaspoon Dijon mustard
1 teaspoon chopped fresh thyme
Directions
Spray a large sauté pan or frying pan with cooking spray and heat over medium-high heat.
Thoroughly sprinkle the pork chops on both sides with salt and pepper and then place in the pan and brown for 3 minutes on each side.
Transfer the chops to a plate and keep warm by covering with foil.
Add the oil to the pan and sauté the shallot for 1 minute, then add the mushrooms and sauté for an additional 2 minutes.
Pour in the vermouth and cook for 30 seconds, then add the mustard, thyme and any juices that have accumulated on the plate with the pork.
Stir the mixture and cook for 2 minutes, and then evenly spoon the sauce over the pork chops and serve.