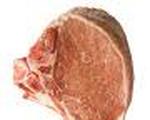 Prep: 10 min
Cook Time: 1 hr 10 min
Total: 1 hr 20 min
Serving: 4
Pork Chop Skillet is great to serve for lunch or dinner.
Ingredients
4, 8 ounce pork loin chops, cut 1 inch thick
1/2 teaspoon salt
1/4 teaspoon garlic powder
1/8 teaspoon pepper
2 cups celery, sliced
1/2 cup onions, sliced in rings
1 medium apple, peeled, cored and sliced
1 cup beef bouillon
Directions
Sprinkle chops with salt, garlic powder and pepper. Broil chops on a rack in a broiling pan, 4 inches from heat source, about 4 minutes or until brown. Turn once during broiling.
Place onions and celery in a nonstick skillet and cook until slightly softened. Arrange chops over vegetables; top with apple slices and bouillon. Cover and simmer for 45 minutes or until chops are tender.