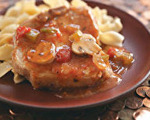 Prep: 10 min
Cook Time: 35 min
Total: 45 min
Serving: 6 Servings
These pork chops are first rubbed with a dry seasoning mix, then grilled for a few minutes to seal in flavor and finally cooked in a delicious tomato and red wine sauce with fresh basil. Serve with a side of hot, buttery egg noodles.
Ingredients
6 pork chops
3 tablespoons olive oil
1/4 cup sweet onion, chopped
3-ounce can sliced mushrooms, drained and rinsed
8 cloves roasted garlic
2 cups chopped plum tomatoes with juice
1/4 cup red wine
1 teaspoon oregano
2 sprigs fresh basil
FOR RUB:
2 teaspoons paprika
2 teaspoons thyme
2 teaspoons rosemary
2 teaspoons basil
2 teaspoons oregano
2 teaspoons garlic powder
Sea salt and freshly ground black pepper
Directions
Place all of the spices for the rub into a bowl and mix to combine. Rub the pork chops with the spice mixture and then set aside at room temperature for 30 minutes.
Prepare your grill on high heat.
In the meantime, place the olive oil into a large sauté pan and sauté the onion and garlic for 2 minutes, stirring frequently. Add the tomato sauce, mushrooms and red wine and bring the mixture to a boil.
Grill the chops for 2 minutes on each side and then transfer to the pan with the tomato sauce. Cover the pan and simmer the chops over medium-low heat for 30 minutes.