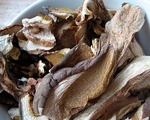 Prep: 30 min
Cook Time: 20 min
Total: 50 min
Serving:
Porcini mushrooms, translated into what Italians affectionately call 'The Piglet,' are used quite extensively in Italian cooking. Their meat-like texture and earthy, almost nutty, taste adds amazing flavor to a variety of dishes.
Ingredients
2 ounces of dried porcini mushrooms
1/3 cup extra virgin olive oil
3 shallots, chopped
1 tablespoon fresh rosemary, finely chopped
1-1/2 pounds small new potatoes, cut into 1/3-inch pieces
3 large cloves garlic, finely chopped
2 cups plus 4 cups of hot water, divided
2 teaspoons sea salt
Directions
Place the mushrooms into a bowl and add 2 cups of water. Set aside for 15 minutes to soak until soft.
Pour 1 tablespoon of the oil into a large soup pan and place over medium heat. Once it begins to shimmer, add the shallots and sauté for 2 minutes, and then stir in the rosemary, potatoes and remaining oil, and cook for an additional 4 minutes.
Add the garlic, softened porcini mushrooms, the mushroom liquid, the remaining water and the salt; bring the mixture to a simmer. Cook the soup for 10 minutes and then season to taste with additional salt if needed.
Serve the soup hot, garnished with fresh chives, freshly grated Parmesan or the topping of your choice.