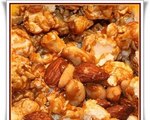 Prep: 15 min
Cook Time: 20 min
Total: 35 min
Serving: 10 half cup servings
Invented by confectionary master Arnold Rebane, poppycock makes a delicious holiday treat.
Ingredients
8 cups popped popcorn
1 cup halved pecans
1 cup blanched almonds
1 cup butter
1 1/2 cups brown sugar
1/2 cup corn syrup
1 tsp vanilla extract
1/2 tsp baking soda
1/4 tsp cinnamon
Directions
Preheat oven to 300 F.
In a shallow pan, bake almonds and pecans until toasted. Set side to cool.
In a very large bowl, combine almonds, pecans and popcorn and set aside.
In a medium sized saucepan, mix sugar, butter and corn syrup and heat for about one minute.
Remove from heat and stir in baking soda cinnamon and then vanilla extract. Pour over popcorn mixture and toss with a buttered fork until evenly mixed.
Press mixture onto a greased cookie sheet.
Break poppycock into pieces when cooled and store in a plastic container in the freezer or refrigerator.