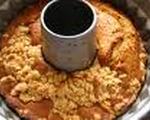 Prep: 25 min
Cook Time: 55 min
Total: 1 hr 20 min
Serving: 8
Poppy Seed Cake is a classic, brunch favorite.
Ingredients
1 cup vegetable oil
4 eggs
1 can Poppy seed filling (Solo Brand)
1 can evaporated milk
2 cups sugar
3 cups flour
1 teaspoon baking soda
1 teaspoon baking powder
1 teaspoon salt
1 1/2 tablespoons brown sugar
1 tablespoon plus 1 teaspoon instant coffee
1 teaspoon vanilla
2 cups walnuts, chopped
confectioner's sugar for garnish
Directions
Butter and flour a 10 inch round tube pan and set aside.
Stir together vegetable oil, eggs, poppy seed filling and evaporated milk in a large bowl.
In a separate bowl, stir together sugar, flour, baking soda, baking powder, salt, brown sugar, instant coffee, vanilla and nuts.
Stir dry ingredients into wet ingredients until mixed and put in pan. Bake at 350 degrees F for 50-55 minutes or until cake tester inserted in center comes out clean.
Cool in pan on wire rack for 10 minutes. Sprinkle with confectioner's sugar when completely cool.