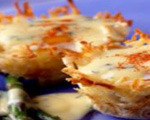 Prep: 25 min
Cook Time: 50 min
Total: 1 hr 15 min
Serving: 4 People
Every breakfast fan knows that potatoes and eggs go together almost as well as bacon and eggs. Throwing in some ham and serving on top of heart-healthy spinach makes this a hearty recipe for the whole family.
Ingredients
Baskets:
2 pounds (4-5 medium) Russet potatoes, grated
2 medium eggs, lightly beaten
2 teaspoons salt
1 teaspoon pepper
Non-stick cooking spray
Hollandaise Sauce:
6 egg yolks
1/2 cup water
1/4 cup lemon juice
1 cup firm, cold butter, cut into 16 pieces
1/2 teaspoon salt, optional
1/4 teaspoon paprika
Dash ground red pepper
Filling:
1 cup finely chopped, fully-cooked deli ham
16 medium eggs
Directions
Preheat oven to 350 degrees F.
For potato baskets: In large mixing bowl, combine potatoes, two eggs, salt and pepper and toss together to mix. Spray 16 medium non-stick muffin cups with non-stick cooking spray, covering each cup well. Spoon 1/4 cup potato mixture into the palm of your hand and squeeze to extract extra moisture, and then place in cup. After making sure there is enough room for the filling, push potatoes into bottom and up side of each cup to form a "basket." For 35 minutes bake at 350 degrees F on the bottom rack. After time is up, remove potato baskets and set aside.
For hollandaise sauce: In a small saucepan, whip together egg yolks, water and lemon juice. Stir the mixture constantly at low heat until it bubbles around edges. Mix in butter, a piece at a time, until melted and sauce has congealed. Stir in your seasonings and remove from heat. Cover and put in refrigerator if you're not using immediately.
For filling: Place a tablespoon of ham into each baked basket and crack an egg into each; return to 350 degrees F oven on middle rack. Bake an additional 15 minutes or until egg whites are firm. To loosen potato baskets, run a small spatula along edge. Place baked baskets on plates and spoon a tablespoon of sauce into each basket. Leftover sauce can be used as extra for drizzling. Serve immediately.